A priority action of the SCM in order to achieve the promotion of mathematical activity and knowledge is to award annual or biennial prizes to mathematical works from different fields and specialties. These awards are primarily aimed at a young audience. Some are included in the list of awards of the IEC, while others are given in collaboration with other entities or institutions.
In the following links, you will find precise information about each of the awards, as well as the ongoing calls for submissions, if applicable:
The Maria Antònia Canals Prize aims to promote innovative educational practices in mathematics teaching. It is organized by the Federation of Mathematics Teachers' Associations of Catalonia (FEEMCAT), the Educational Society of Mathematics of the Valencian Community Al-khwarizmi (SEMCV Al-khwarizmi), the Balearic Society of Mathematics (SBM Xeix), and the Catalan Society of Mathematics (SCM).
Ferran Sunyer i Balaguer Prize in Mathematics, IEC Prize of the Mathematics Sciences and Technology Section (in honor of Assumpció Català i Poch), and Mathematics and Society Prize.
In 2001, the Activities Promotion Fund (FPA) of the SCM was created with economic resources provided by the organization of the 3ECM, the Third European Congress of Mathematics of the European Mathematical Society, which took place in Barcelona in July 2000.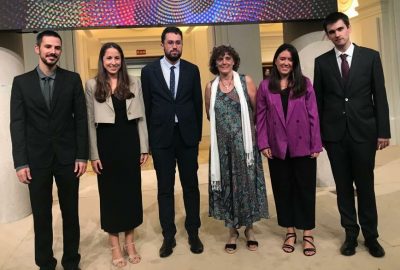 El 4 d'octubre va tenir lloc el lliurament de guardons als  joves investigadors en matemàtiques...